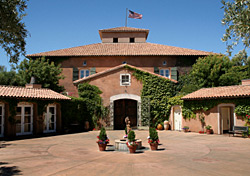 They say that every region has its taste, that one wine can be of the same vintage as another, but that the change in geography will change the wine. Perhaps when most think of wine, they do think of Europe, of French and Italian vintages, but the Napa and Sonoma Valleys are California wine country. This California wine is of a high and different quality and the wine enthusiast won't be satisfied with just one session of wine-tasting. Not here.
Wine-tasters and those more interested in the wine making process will be more than satisfied with California wine tours. Many, many varieties of red and white wine, as well as sparkling and specialty varieties, are yours to sample, all pressed and fermented from local vines and grapes.
While you're touring, purchase a bottle or two of your favorite vintages, or give your loved ones a gift of their favorite wines.
Napa Valley is famous for its wineries and deservedly so. Napa wine is celebrated throughout the world and a Napa Valley wine tour can be a very fun and unique experience. You'll find that Napa wineries are very different from each other and so are their tours, from formal tours that require a reservation to laid-back tours that can only be described as "hip." Napa Valley has two sections: the cooler southern end and the warmer northern end. Each has their own distinctive flavor.
Sonoma Valley is less popular than Napa Valley, but has that prestige of being the primary producer of wine grapes in California's wine country. Sonoma's wineries are less touristy and more homey and you'll find Sonoma's wine tours to be intimate affairs, even chatty ones.
You'll see a few of the featured wineries for Napa and Sonoma Valley below. For many, many more wineries, click here.
Napa Valley

Sonoma Valley