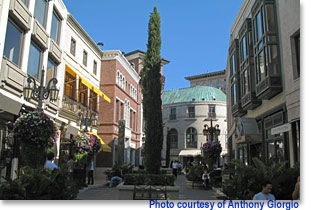 You can't go to Los Angeles and not shop. (It's a little like visiting Rome and having a panini instead of making a stop at the Coliseum.) Los Angeles isn't pure upscale or pure flea market; you'll find all kinds of wares for all kinds of prices. Rodeo Drive is the most up of upscales and you window shop here to say you had. Everything is designer and everything is extremely expensive. And Rodeo Drive is just the core of the Golden Triangle; all the shops are like this.
Likewise expensive (but not quite as) is Robertson Boulevard, the haven for the super hip and the off celebrity. The advantage of shopping here over Rodeo Drive is that everything is a bit more varied (there are kids' bookstores here) and you will find discount outlets as well as the top-of-the-line.
Melrose Avenue sounds intimidating and the storefronts, which look like pop art museum displays, only make it worse. But while Melrose Avenue may indeed be too cool for school, many stores offer second-hand alternatives to the upscale shops, and others may not be cheaper, but are more low-key. For those with more mature (and less faddy) tastes, easy-going Beverly Boulevard may be the venue of choice; just don't expect too many bargains.
Third Street is a haven for the antique, the boutique, and the specialty. It's a little more quaint, a little more everytown as opposed to Los Angeles's more common glitter. Montana Avenue mixes this quieter atmosphere with the too-hot-to-handle super-cool that tends to define high-end shopping areas here. La Brea Boulevard, conversely, is so low-key that most people miss it. If you're looking not for the newest new thing, but for the rare and quality (or home d'cor, period), this is a good place.
The fashion district of Downtown, or, at least, Santee Alley is where you go for bargains; really, really inexpensive bargains. Sunset Plaza is almost a better place for people watching than shopping, but you can find some affordable salon services and window-shop at those pricey boutiques. Westwood Village marks the middle of the shopping spectrum and you will find plenty of low-end stores among the high-end.
Los Angeles Shopping
Search Los Angeles Shopping