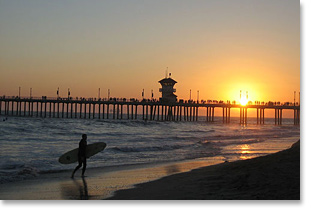 Orange County is a surfer's paradise, but it's not all smooth beach and gentle waves. For example, Aliso Beach is all steep shoreline which skim boarders enjoy (when the surf isn't dangerous enough to shut down the beach) and parents with young children should avoid. Capistrano Beach is a far more family-friendly beach and still surfable. Corona del Mar Beach, however, may be a bit too tame and the waves better played on with a boogie board.
Crystal Cove State Park is another of those state parks with fine surfing, but expect a long walk to access the beach. Huntington Beach has gone by the nickname "Surfing Capitol of the Mainland USA" (not wanting to compete with Hawaii, of course) and is home to surf competition after surf competition. Do take note that when the crowds get heavy, surfing is restricted. Huntington State Beach is far less intense and rather gentle. The main beach of Laguna, packed and urban, is not a very good surf beach, alas, but if you want to people watch from the water, why not? Brook's Street Beach is far better; watch out for south swells and the long lefts they generate.
Crescent Bay Beach and its 12-15 foot surf waves is popular with skim boarders as well as body-surfers, if its popularity can make it crowded. St. Ann's Street Beach's south end is even more popular with surfers. Newport's west beach has jetties surfers enjoy, and Newport City Beach is also surfable, if not particularly distinguished.
Far more distinguished is Salt Creek Beach, which has a focus on surfing intense enough that part of the beach is restricted purely to that activity. It's great stuff, but don't even attempt this beach unless you're a pretty good surfer already. San Clemente City Beach is nowhere near so intense, but still has decent surf, as does San Clemente State Beach. Seal Beach is another passable beach.
San Onofre Beach is another famous beach. Old Man's (intense) and Trestles (less intense) are here, but the beach is a good, steep walk. San Diego and Orange County are fighting over this one. Sunset Beach is more accessible and yet not terribly crowded; the tourists haven't discovered this one yet.
These are the surf beaches of Orange County. There's no doubt that regardless of your choice, you'll have a blast. Get ready for fun in the sun!