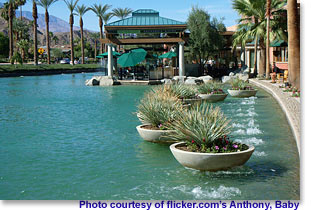 Upscale resort town as it is, Palm Springs would count it amiss not to be notable for shopping. El Paseo has been nicknamed the Rodeo Drive of the Desert and it certainly brings the fine landscaping and the high-end expense. Even if you don't have the pocketbook for it, walking through the flowers and between the statues and window-shopping is an attraction in itself.
Palm Canyon Drive is a bit more varied and a bit less intimidating, aside from the palm trees strung with electric lights.
This is as much a cultural hub as a shopping hub. Besides the art galleries and the jewelry, you'll find plenty of historic landmarks. The Palm Springs Walk of Stars is here and the weekly Villagefest on Thursday evenings is one long fest of great bargains, sample restaurant fare, and live music.
If you're just looking for a big mall, you'll need to wander a little bit. Swing by Westfield Shopping Town in Palm Desert for 140 shops, many of them department stores. Or if Palm Springs shopping whets your appetite for style, head a little further to the waterfront, landscaped River at Rancho Mirage, which is practically a shopping resort.
Palm Springs Shopping
Search Palm Springs Shopping