NAMED ONE OF THE "MOST FUN" TOWNS IN AMERICA
A vacation hot spot, the city of Buena Park is located just 5 miles from Disneyland®, 15 miles from Huntington Beach, 20 miles from Los Angeles and a million miles away from your everyday life! Start your adventure at Knott's Berry Farm with over 30 exhilarating rides, get your picture with Snoopy and the Peanuts Gang and pan for gold at an authentic 1880's Ghost Town. In the summer, drop into Knott's Soak City waterpark where visitors can race down Banzi Falls, relax in one of the country's longest lazy rivers or experience one of seven new thrilling slides.
For an interactive experience, join the swashbuckling crew at Pirate's Dinner Adventure, cheer on your favorite knight at Medieval Times or go out for an evening without the kids to Beach Boulevard Club for an evening of dueling pianos and vintage Hollywood allure.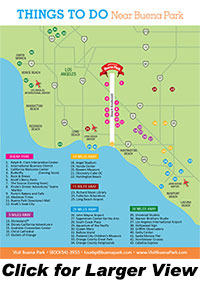 Looking for a little culture? The city has preserved several buildings from the 1800's and offers free tours of their historic district. Knott's Independence Hall is a true brick-by-brick replica of the original in Philadelphia but without the ticket fee and long waits in line. Take a free tour of the Nutrilite Experience Center that attracts medical professionals and athletes from around the world looking for the latest trends in health and nutrition.
Foodies flock to Buena Park to check out Yelp's #1 rated restaurant, Porto's Bakery and Café. Grab a Chicago-style dog at Portillo's or some finger-licking comfort food at Mrs. Knott's Chicken Dinner. Rock out at Rock & Brews, the brainchild of Gene Simmons and Paul Stanley of KISS that offers American classics and over 100 craft brews. Start your day off right with fluffy soufflé pancakes from Basilur Tea, or end on a high note with a spooky themed cocktail at The Cauldron Spirits and Brews.
Come and experience for yourself why Buena Park draws millions of visitors each year. With its warm weather, family-friendly environment and premier entertainment, you don't have to look for it because fun finds you in Buena Park!
Where to Stay
For discounted Buena Park hotel packages and deals CLICK HERE. To check out the full list of Buena Park hotels CLICK HERE.
Hotels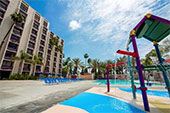 After a long day of excitement, relax in comfortable accommodations just minutes from Disneyland®, Huntington Beach and Los Angeles. The popular destination offers a wide array of hotels that suits every budget and save even more with free parking, no resort fees and complimentary shuttle service from most major hotels to local attractions including Disneyland®. Whether you're looking for the convenience of being within walking distance of world-class attractions like Knott's Berry Farm, Medieval Times and Pirate's Dinner Adventure, the flavors of award-winning dining, the abundance of luxury and outlet shopping at your fingertips or a place to rest before your next business meeting or convention, Buena Park has you covered.
Things To Do
Immerse yourself in the ultimate Southern California vacation by exploring things to do in Buena Park, Orange County and LA. Visitors can enjoy world-class rides at Knott's Berry Farm, drop into dozens of slides at Knott's Soak City water park, join the swashbuckling crew at Pirate's Dinner Adventure and cheer on their favorite knight at Medieval Times. From Buena Park, you're just a few miles away from pristine beaches, the glitz and glamour of Los Angeles, South Coast Plaza's world-class shopping, the presidential artifacts of the Richard Nixon Library, classic art at The Getty Museum and theatrical performances at Segerstrom Center.
Knott's Berry Farm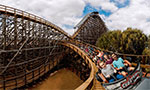 With dozens of rides, shows and attractions in four themed areas, there's something for everyone at Knott's Berry Farm! Take a journey through the Wild West at Knott's Ghost Town where you'll meet its many residents, take a stagecoach ride, pan for gold or brave the Timber Mountain Log Ride. For those thrill seekers, take on the West Coast's longest, tallest and fastest wooden rollercoaster, Ghostrider; launch 83 miles-per-hour on Xcelerator or ride Silver Bullet, named "One of the Best Steel Coasters." Hang out with the Peanuts Gang and ride 14 pint sized attractions just for kids at Camp Snoopy.
Fun is always in season at Knott's with year-round festivals and events. Indulge in over 100 different boysenberry dishes, enjoy live entertainment and interactive exhibits during the 23-day Boysenberry Festival in April. From the end of September through October, the World's Largest Halloween event, Knott's Scary Farm opens the crypts to 1,000 monsters and over a dozen terrifying mazes. During the day, kids can trick-or-treat, compete in a costume contest and meet their favorite Peanuts characters at Knott's Spooky Farm. As the fog fades and the holidays roll in, the theme park transforms to Knott's Merry Farm from November through December. The holiday celebration features the ice skating spectacular, "Snoopy on Ice," photos with Santa, delicious holiday food and nightly snow fall.
Pirates Dinner Adventure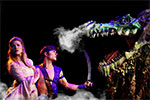 Guests of the show are entertained with an astonishing display of special effects, aerial artistry, swashbuckling swordplay and dynamic duels. Acclaimed as the "World's Most Interactive Dinner Show," the excitement takes place on board a replica 18th century Spanish ship that sits in a 250,000-gallon indoor lagoon. While the action takes place, visitors will feast on a three-course meal including a fresh garden salad or a savory veggie soup, quarter chicken and roasted shrimp skewer with a side of buttery mashed potatoes with seasonal veggies and for dessert, a delicious fudge brownie with vanilla ice cream.
Medieval Times Dinner & Tournament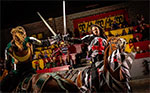 Named "Best Tourist Attraction" by OC Weekly, visitors to the castle are transported back in time to an age of chivalry during the two-hour medieval tournament. Guests can wander the corridors before the show and discover the indoor stables, elaborately decorated Hall of Arms and lush outdoor garden. Cheer on your favorite knight as they compete in authentic jousting tournaments, hand-to-hand sword fights and win the heart of the princess with games of skill.
Beach Boulevard Club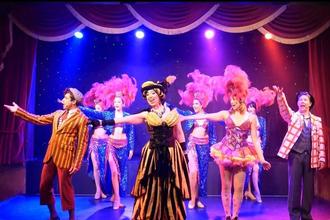 Buena Park's newest hot spot is the Beach Boulevard Club featuring dueling pianos, elegant cocktails, and delicious bites. Step through the entrance of this classy cocktail lounge and get transported to the prohibition days of the 1920s. As you mix and mingle with your friends, enjoy the smooth soundtrack of the club's talented pianists. The Beach Boulevard Club offers a full-service cash bar that includes a variety of wines, beers, liquors, and specialty cocktails. The club will also serve a variety of appetizers and meals. The speakeasy is open to guests 21+ and shows run from 8 p.m. to midnight Thursday through Saturday.

Knott's Soak City Water Park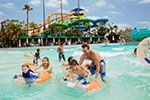 Orange County's largest waterpark offers 13 beach-themed acres designed for thrill seekers of all ages. Speed fans can race head-to-head on Banzai Falls or drop 63 feet straight down on Old Man Falls. At Shore Break and the Wedge, experience one of 7 new slides including the six-person raft ride where families can navigate the twist, turns and a surprise drop. For those body surfers, Tidal Wave Bay is the place to hang ten, while the whole family will love relaxing on one of the World's Longest Waterpark Lazy Rivers. Even kids have their own water wonderland at the Gremmie Lagoon and three-story, interactive Beach House.
Big Air Trampoline Park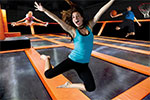 Jump off the walls at Big Air Trampoline Park located inside the Buena Park Downtown Mall. Test your skills on the rock climbing wall; throw down on the slam dunk court; dip, duck, dive and dodge on the trampoline dodgeball court; flip into thousands of foam cubes on The Launch Pad; saddle-up for a ride on the mechanical bull; or take on your friends with gladiator combat sticks on the balance beam! And even though they're big, they have plenty of fun for smaller guests, too, at Li'l Air, which includes fun-size versions of their most popular attractions!
John's Incredible Pizza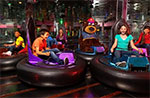 The ultimate combination of arcade games and an all-you-can-eat buffet, John's Incredible Pizza is 50,000-square-feet of amusement rides, ticket-dispensing games and sensory entertainment. Favorites include twenty different kinds of pizzas, pastas with homemade sauces, fresh salad bar, soups and made-from-scratch desserts.
Knott's Independence Hall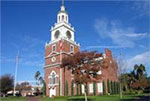 Located across the street from Knott's Berry Farm, this remarkable building is an exact brick-by-brick replica of the original Independence Hall in Philadelphia but without the ticket fee and long wait in line. The Hall is packed with free exhibits, a replica Liberty Bell, presidential artifacts and a re-creation of the signing of the Declaration of Independence.
Ralph B. Clark Interpretive Center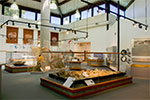 Orange County wasn't always populated with nice, friendly people. The original residents were a bit more wild. Mammoths, ring-tailed cats, giant ground sloths and a unique type of ancient llama lived in the area. Located in Ralph Clark Regional Park, the nationally recognized Interpretive Center provides an educational view of prehistoric Orange County through interactive exhibits, programs and guided tours. Among the fossils on display is a 9-million-year-old baleen whale skeleton - it is reputed to be one of the only complete ice age whale fossils in existence. Visitors can also watch scientists and volunteers excavate and prepare fossil specimens for study and educational exhibits. Admission is FREE!
Buena Park Historic District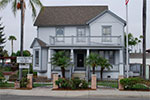 Travel back in time by touring the city's Historic District featuring seven preserved buildings from the 1800's. The Whitaker-Jaynes House serves as the city's local history museum; the Bacon House, is one of the oldest surviving structures; the Tice House, is now a charming restaurant and the Stage Stop Hotel, currently home to the Buena Park Tourism Office.
Calendar of Events
Every visit to Buena Park is a new experience with seasonal celebrations and a full line up of events in Orange County and LA. Explore the area's top things to do during your visit including the world's largest Halloween event, Knott's Scary Farm; yachts covered in festive lights at the Newport Beach Boat Parade; Buena Park's free summer concert series; over 100 delectable treats during Knott's Boysenberry Festival and Southern California's biggest event, the OC Fair.
Knott's Scary Farm
September – October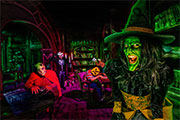 From the end of September through October, Knott's Berry Farm transforms into 160-acres of horror during Knott's Scary Farm. The Halloween theme park event has grown to become the largest and scariest in the world. The annual event features 1,000 monsters, 4 fright zones and 13 haunted mazes including the interactive zombie hunting experience, "Black Ops-Infected."
Knott's Merry Farm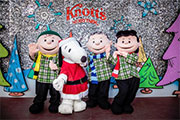 November – December
While Santa is checking his list twice, elves transform Knott's Berry Farm into Merry Farm from the end of November through December. The holiday makeover includes a 60-foot Christmas tree lighting, festive decorations and the ice show spectacular, Merry Christmas Snoopy!
Knott's Boysenberry Festival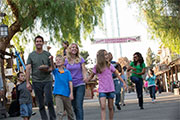 April
Celebrate Knott's delicious roots during the Annual Boysenberry Festival. The 23-day food and entertainment event features over 70 one-of-a-kind boysenberry treats, live entertainment, interactive experiences, meet and great with Snoopy and the Peanuts Gang and night time dance party.
Family Fossil Day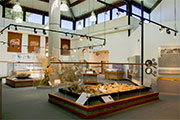 February, May, September and December
Take a journey back in time with the free Family Fossil Day event at the Ralph B. Clark Interpretive Center, located in Ralph B. Clark Park. Visitors will be guided by a certified paleontologist guides throughout the three hour program starting at the Interpretive Center followed by a trip a chance to look for fossils at an actual marine dig site.
Request Free Visitor Guide