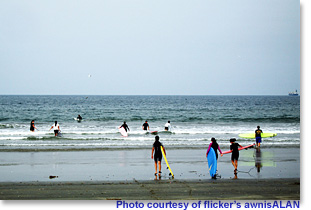 Oxnard has some excellent surf and is much smaller than Los Angeles or San Diego, but its beaches are also comparatively smaller. So it's quite possible that when you trot out onto some beaches with your board under your arm, you'll get an unfriendly reception from the locals. However, that surf remains just that good. Silver Strand Beach is the most famous of Oxnard beaches, if perhaps the most unfriendly. The waves can rise up massive here.
Hollywood-by-the-Sea, close to Silver Strand, is another beach with a surf character, if it's not quite as well-known. Mandalay Beach is host to some competitions and can show four-foot surf on the right day. Port Hueneme is another beach where you'll find surfers in the water.
Essentially, if there's water that forms surf and a soft enough beach to bank it against, surfers have played there. Oxnard Shores is always consistent and truly uncrowded. Oxnard also has 5th Street Beach open for boards and even McGrath State Beach acts as a surfer haven.
With so much surfing and much of it intense, it's hard to believe that the absolute best spot is on a military base at Point Mugu. Military personnel can and do surf here . . . the break is rapid and sometimes up to 15-foot.