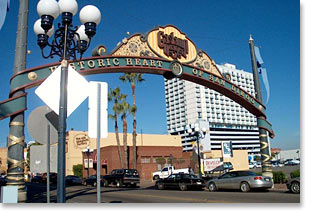 San Diego may not be as glitzy as Los Angeles, its northern neighbor, but it doesn't lack for variety and quality of shopping. The Gaslamp Quarter is a must-visit, whether you're in a conservative outlet mood or in a mood for more adventurous curiosities. You can find vintage and ethnic clothing, or clothing that simply hasn't spread across the nation yet . . . you can also find the "little bit strange." If you're in the market for home furnishings that aren't just everyone's suburbia, look out for Latin American furniture and Far East d'cor.
Hillcrest is a quiet, parky shopping area that specializes in both retro and the not-yet-trends. You'll find plenty of books and music here, too. Little Italy is fantastic for the female clothes-shopper, and the art galleries are well worth a look, too. Your home can be a bit arty, too, if you like decorations in a modern (or post-modern) style.
Ocean Beach Antique District is what it seems to be, a massive gathering of antique dealers in six malls. Cedros Design District is more of a luxury destination that will hurt your pocketbook if it isn't a particularly thick one. La Jolla's Upper Girard Design District is also oriented toward luxury, if specifically luxurious home d'cor. La Jolla's Prospect Street has been called San Diego's Rodeo Drive. Look out for unique-to-here jewelry, among a wide variety of up-scale shops.
Del Mar Plaza is a retail village that looks as if it were imported direct from Europe. It's set in a hillside and the walkways are of stone and wind up through lovely shops. Seaport Village, instead, looks as if it was imported from California's past and is all themed shops and cobblestone paths. Other outdoor malls include the massive and brightly-colored Westfield Shoppingtown Horton Plaza, the hip, 200-store strong Fashion Valley Shopping Center, and the Westfield Shoppingtown UTC.
The Shops at the Del live within the historic Hotel Del Coronado, and Ferry Landing is a waterfront mall and entertainment complex and the San Diego-Coronado Ferry docks here. And once you've crossed over to Coronado, check out the historic downtown shops.
Plaza del Pasado is another historic series of venues, all reflecting the 19th century as it was. Old Town Esplanade has its specialty shops and a Southwestern marketplace. And visit any of Balboa Park's museum gift shops for unique wares that are more than just souvenirs.
If you're less interested in the heights of style and history and more into bargains, check out the fun and inexpensive Viejas Outlet Center, the discounts and more discounts Carlsbad Premium Outlet, and the borderland Shops at Las Americas. Or pop down to Tijuana, Mexico for a different kind of shopping experience altogether.
San Diego Shopping
Search San Diego Shopping