Transportation information for San Diego is provided below. Travel information includes driving directions, maps, airport information and more.
Crossing into Mexico
As of January 31, 2008, to cross both into and out of Mexico by car or by foot, you will need a passport. Alternatively, you can provide a government-issued photo id (like a driver's license) plus proof of U.S. citizenship (like a birth certificate).
To learn more about border crossings, refer to the U.S. state department page.
Transportation Services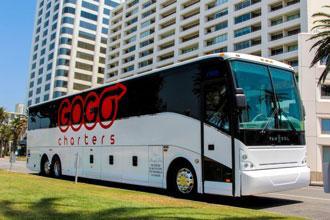 Statewide
Transportation Services
855-826-6770
San Diego
Transportation Services
858-336-1894
Airports
The San Diego International Airport services hundreds of destinations in the United States and abroad. An Amtrak train station and multiple Greyhound bus stops provide alternate means of transportation to and from the city.
Also, an airport shuttle runs between the airport to major San Diego neighborhoods, including downtown, Mission Beach, and La Jolla. Fares range from $5 to $12 depending on your destination.
RV Rentals
Map + Directions
Basic Directions
San Diego is located in southwest California, at the junction of Interstates 5 and 8. It is about two hours south of Los Angeles.
Customizable Directions