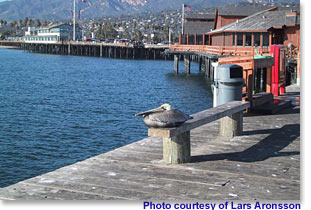 Santa Barbara has several major shopping areas, and the type of shops it encompasses range from the big and generic names, such as Sears, to the small and intimate. Downtown has the widest range and the most architectural style. Paseo Nuevo takes its name from its paseos, or pathways, and these paths thread around fountains and flower gardens. The shopping center has very much an Old World plaza feel, if shops like Nordstrom and Macy's are American regulars.
El Paseo is much like Paseo Nuevo's older cousin. It was built in the 1920s and its shops tend toward the unique. Expect to peruse galleries and jewelry stores among the courtyards and gardens. La Arcada is another built along the same Old World plaza template, although it adds a lot of statues and a massive, chiming clock.
Santa Barbara's Upper State Street has the large La Cumbre Plaza, which has the Mediterranean style, but is a little more generic. Haley Street is full of hip shops, Brinkerhoff Avenue is perfect for the antiquer, and the Arts and Crafts show every Sunday is crowded with artists and their wares. Stearns Wharf, a literal (and historic) wharf built-on by shops and restaurants is perhaps Santa Barbara's must-stop (and shop).
Santa Barbara Shopping
Search Santa Barbara Shopping