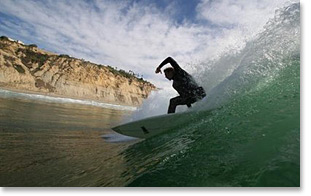 San Diego's surfing ranges from the gentle . . . to the insanely intense. For example, Black's Beach may be best known as the United States' largest nude beach, but the beach breaks are extremely powerful. An underwater canyon focuses the waves huge and scary. Mind, because of these huge, scary waves and the crowds, this is far from the safest place in the world to surf. Even just walking up here can be dangerous; people get lost and die on these cliffs.
San Elijo Lagoon is beloved by longboarders for the small waves that roll over the Cardiff reef. Other fun spots along the Cardiff are the Pipes and Cardiff Reef itself. The Shores at Coronado Municipal Beach has fantastic surf from mid-summer to late fall and the south swells are especially good and pretty darn safe.
Imperial Beach is a slick public beach with a relatively mellow atmosphere. The Grandview beach of Leucadia has sand and rock reef and fun surf, as does Beacon's and Stone Steps. Marine Street Beach is only suitable for body surfers and boogie boarders as stand-up surfers can't handle waves quite this steep and rapid. Even for body surfers, this beach can be very dangerous - the waves are fierce and break where the water's shallow. Mission Beach is the most popular of San Diego's beaches and the waves are small. Surfing's permitted north of Ventura Place and nowhere else; and do watch out for rip currents.
North Pacific Beach designates Crystal Pier to Diamond Street and Law Street as surfing only (in the summer). This is a relatively uncrowded place. South Pacific is more crowded and has a bit of a bar scene, but surf you can, here.
Solana Beach is a beachside city and Fletcher Cove, Tide Park, and Del Mar Shores are all good surfing spots. The bluffs of Del Mar City Beach are also beloved of surfers (if not by too many others, as it's a rougher beach). Swami's has fantastic waves (and is also home to the Self-Realization Fellowship), as does Torrey Pines State Beach (which can be downright scary as you get closer to Black's Beach). Tourmaline Surfing Park has the kind of gentle, gradual waves that older surfers prefer, but at large swell, Pacific Beach Point can be less relaxing and more exciting, but never more than mediocre. Windansea is a different kind of surfing park. Bonair Street has a break that creates one fantastic reef wave, as does Simmons Reef. If you've heard of Banzai Pipeline in Hawaii, check out Windansea's Big Rock, which features a similar hollow, steep, rapid wave. Marine Street Beach is gorgeously white, like a bit of surf spray itself, and although most of the surfbreaks aren't named, aren't safe, and aren't predictable, they are here.
La Jolla Shores Beach, or Scripps, is an only moderate-tough surfing spot. Carlsbad State Beach is home to the following popular surfing spots; Tamarack, Warm Water Jetty, and Terramar. Ocean Beach has some well-supervised surfing as well. More remote, less well-supervised is the wild Garbage Rock, AB's, and New Break at Point Loma. The waves are nothing short of amazing, but the swells are not only powerful, but break very close to the rocks . . . and the cliffs are pretty scary on their own.
These are San Diego's surf beaches. Regardless of where you end up, be prepared for a lot of fun in a lot of sun!