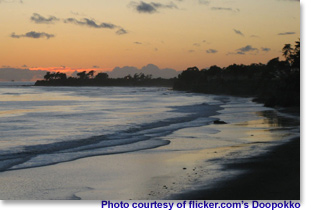 Santa Barbara has a variety of surf spots. The Ventura County fairgrounds is home to C Street, which longboarders enjoy, and the Stables/Pipes for the short boarders. The county's shoreline also has some nice reefs and Supertubes and the county line have some good surf down south. Rincon sits at the northern county line and tends to be one packed beach. The pointbreak is long and right and a ride here can be over a mile long. Hammonds Reef is another right-hand ride.
Sand Spit is home to a hollow barrel of the ride, but riding it can be crowded and the barrel only shows up after a large west swell. Leadbetter Point is far smaller surf and good for beginners. UCSB Campus and Isla Vista's beach is necessarily crowded with college kids and there's a lot of nasty tar in the water and on the sands, but the long boarding is good and the surf has plenty of peaks.
The North County has some decent surf in fall; a little too wild otherwise.
These are Santa Barbara's surf beaches. Get ready for some fun in the sun!